With the new series of indicator lights, we complete our range of LED indicator lights with protection class IP67.
The robust anodized metal housing with M10 thread and 12mm head diameter has the option of a transparent or colored PMMA panel insert.
This means that the luminaire is largely resistant to aggressive media such as chemicals and cleaning agents.
Thanks to the ultra-bright LEDs used and the displays' insensitivity to UV and IR radiation, the series is also particularly suitable for outdoor use.
The lights are available for various supply voltages from 6V to 230V, with an additional built-in diode that provides protection against polarity reversal and induced voltages.
Various connection configurations are also available. The preferred type has 2.8 x 0.8 mm size lugs, in addition, various stranded cable designs are available with cross sections from 0.22 to 0.56 mm² - also with different brand plugs or sockets. Optional with epoxy encapsulation on the back and IP69k.
SMCP10 stranded wire SMCP10 connector
In combination with the option "twisted wire connection", 3-pin LEDs (2/3 colors) and an RGB version with a common anode can also be implemented.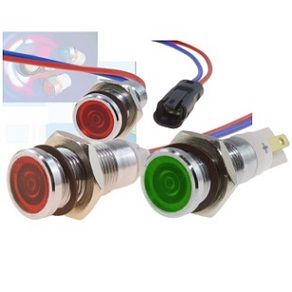 Ask us about your personal offer!